Delias momea Boisduval 1836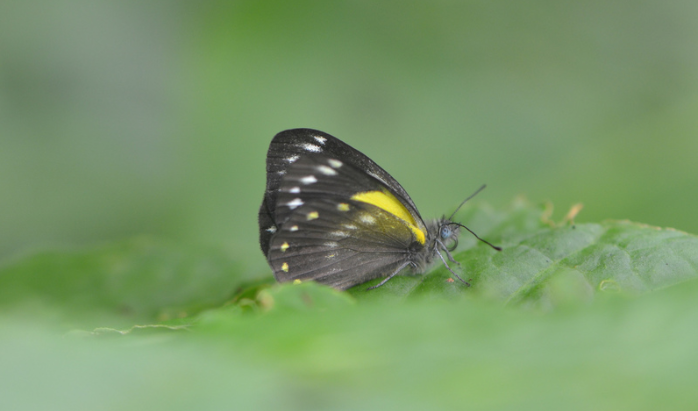 Delias momea momea (female)
Cianjur, West Java
5 April 2019
Picture by Ji-Shen Wang
Subspecies and range of Delias momea :
. momea Boisduval 1836 - West Java
. hageni Rogenhofer 1892 - NE. Sumatra
. huphinoides Joicey & Talbot 1936 - SW. Sumatra
form datames de Niceville 1893
. ikuyoae Nakano 1993 - Mt. Slamet, C. Java
. sumiae Nakano 1993 - Mt. Ciremai, W. Java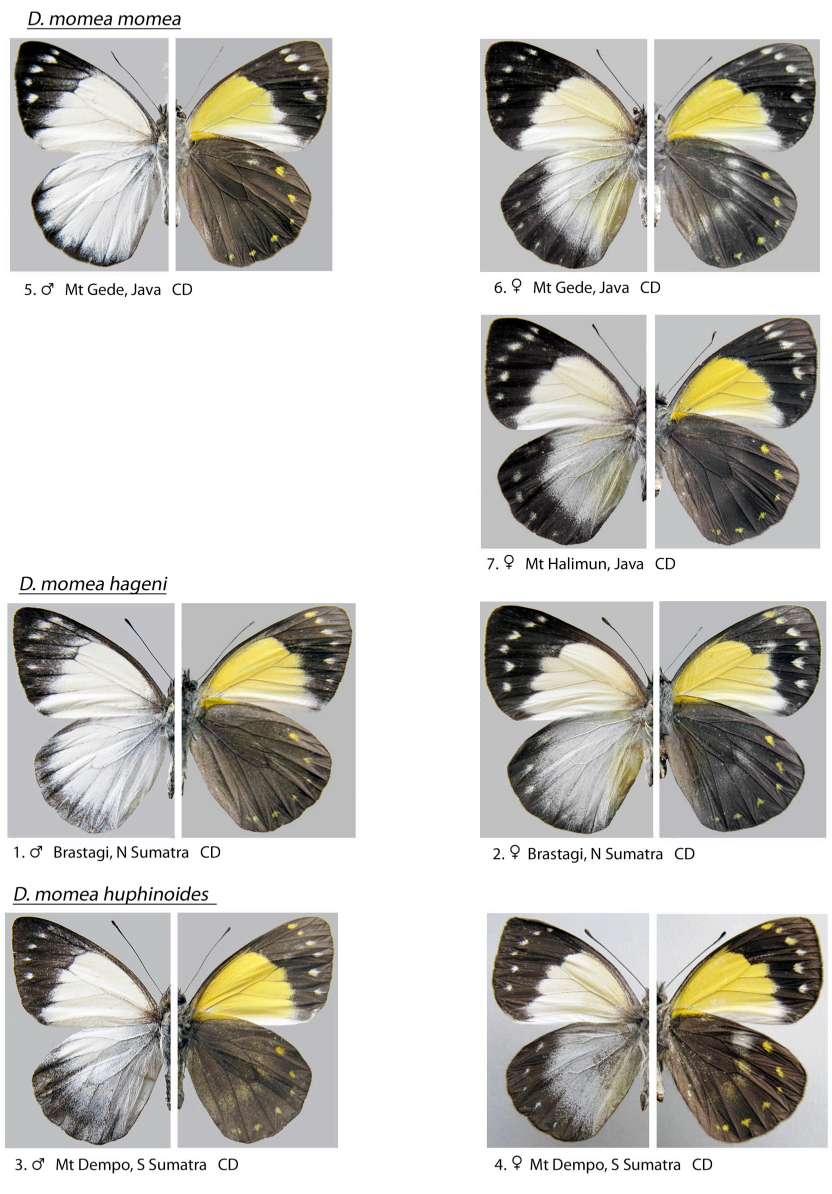 Notes on Delias momea :
This species closely resembles on the upperside the male Huphina nadina fawcetti Butler, and the two species can often be found flying together.
Description : Male: Fore wing with black distal area usually reaching the end of the cell and narrowing to the submedian. A subapical row of five small white spots, of which the one in 3 is smaller and nearer the margin than the others. Costal margin to the cell, black to the base. Costa only slightly dusted with black, and in the possession of 3 small white post-cellular spots in 4,5 & 8. Hind wing with a black-dusted marginal border which is not well-defined and is usually less than 5mm. broad, with white submarginal spots at least in cellules 3-5.
Underside of fore wing with lemon-yellow proximal half edged with white and posterior area reaching vein 2 distally. Distal half fuscous-brown with spots as above, the two anterior ones yellow and sometimes a small spot in 2 near the margin. Hind wing fuscous-brown, yellow at base of costa. A row of six rather small yellow submarginal spots. Some indistinct yellow postdiscal dusting between the submedian and vein 5 and a complete row of postdiscal white spots which are sometimes only faintly indicated.
Female: Upperside of forewing with the proximal area as in the male, but yellowish, the distal black area being broad and the submarginal spots being larger than in ssp. huphinoides. Hindwing with black marginal border broader than in the male and mostly with a series of white dots; the rest of the wing darker than in the male, though the black distal border is broader, and the proximal area is white than in ssp. huphinoides. Inner margin washed with yellow. Underside as in the male, spots a little larger and sometimes formed into a band. Hind wing as in the male.