Delias manuselensis Talbot 1920
Subspecies and range of Delias manuselensis :
. manuselensis Talbot 1920 - Ceram island
. brooksi Joicey & Talbot 1925 - Ambon island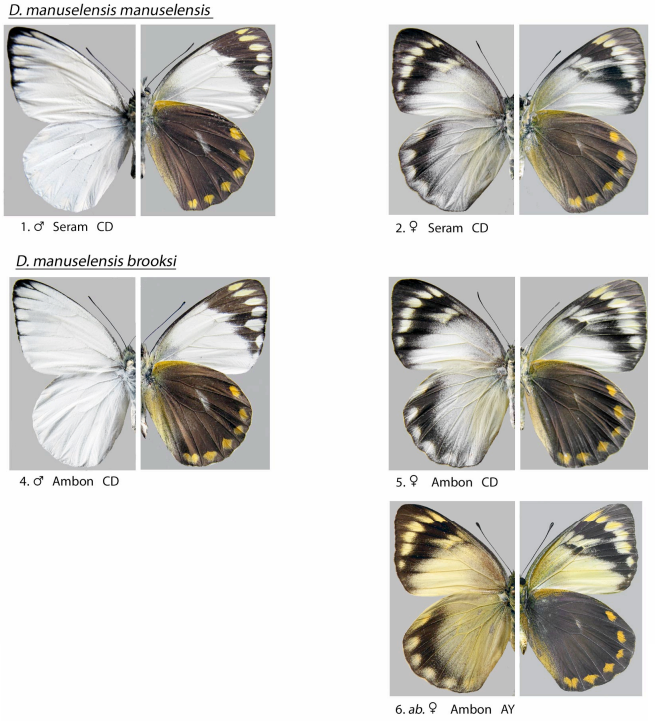 Notes on Delias manuselensis :
Whilst the nominate subspecies is quite well known in collections, the subspecies D.m.brooksi has only recently been rediscovered in the late 1990's, after many years without any sightings.
From the specimens in my collection, I can see no difference on the upperside of the males. The undersides differ only very slightly, brooksi having slightly larger submarginal yellow spots, and the faint yellow costal markings on the nominate form are lengthened on brooksi. I have not yet seen the original description of D.m.brooksi, so I can not confirm that these are the correct differences between the subspecies.
Original description: Talbot- Ann. Mag. Nat. Hist. (9) 6. - 1920 -Male: "Upperside of fore wing white; costa narrowly edged with black, outer margin narrowly bordered with black from apex to vein 3, distal ends of veins 2-7 black. Hind wing white. Underside: Fore wing white; apex and outer margin broadly dull purplish-bronze to below vein 2, and bearing near the margin a row of six white spots; the anterior two or three spots are tinged with yellow, all are rounded, the upper three being more ovate, the lower spot much smaller than the others; the distal margin of the dark area is invaded by white in cellule 4; costa narrowly purplish-bronze; some grey and yellow scaling at the base. Hind wing deep purplish-bronze; a submarginal series of six pale yellow spots which are rounded and slightly pointed distally, their points sometimes touching the margin; cellule 8 powdered with yellow; inner margin to the submedian sparsely powdered with yellow; a white discal spot formed of some loosely placed white scales along the outer edge of the lower discocellular. Head grey-black; palpi black, with black and white hair; antennae black, thorax black, with grey hair above and below, sides with some yellow hair; abdomen black, powdered with white, especially at sides and on ventral surface, claspers white.
Female: Upperside: Fore wing white with blackish-brown apical half; costa narrowly black; base greyish to vein 2 and merging anteriorly into the outer greyish powdering of the apical area; apical area reaching to the submedian and bearing a series of six submarginal white spots, the fourth and fifth the larger, and the sixth the smaller; the greyish powdering distally cuts off a white patch outside the end of cell, this patch being indented distally, its lower part forming a tooth in cellule 4. Hind wing grey, formed by a thin layer of white scales on a blackish-brown ground; this colouring is darker distally and leaves a more or less extent of black ground-colour in the distal area; a narrow marginal border of grey-white, deeply crenulate on its inner edge. Underside: Fore wing as above, but dark apical half more sharply defined; base powdered with grey along costa and below the cell, base of cell powdered with yellow. Hind wing as in the male. Head and appendages, thorax and abdomen as in male."