Delias meeki Rothschild & Jordan 1904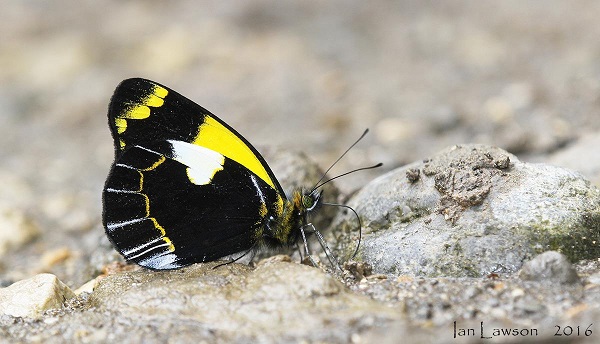 Delias meeki hypochrysis male
Pass Valley, July 2016
Picture by Ian Lawson
Subspecies and range of Delias meeki :
. meeki Rothschild & Jordan 1904 - Owen Stanley Range, PNG
. neagra Jordan 1911 - Mt. Goliath; Langda, Papua
. arfakensis Joicey & Talbot 1922 - Arfak, Papua
. septentrionalis Rothschild 1924 - Rawlinson Mtns, Papua NG
. albimarginata Talbot 1929 - Weyland Mts, Papua
. hypochrysis Roepke 1955 - Baliem Valley, Papua
. hypoxantha ??? Roepke 1955 - Baliem Valley, Papua (=hypochrysis ?)

Notes on Delias meeki :
This is a common species confined to the mountains on Papua New Guinea. It was originally taken that D. neagra, D. hypoxantha & D. arfakensis were subspecies, but were given specific status within the Group. It is now considered that the original grouping was correct, and has been adopted here. It is very difficult to tell these subspecies apart.

It flies together with the similar D. niepelti, but may be distinguished by the white costal patch on the underside of the hind wing.
There are various female forms on recto : some have only yellow forewings, some have all wings yellow.