Delias ennia Wallace 1867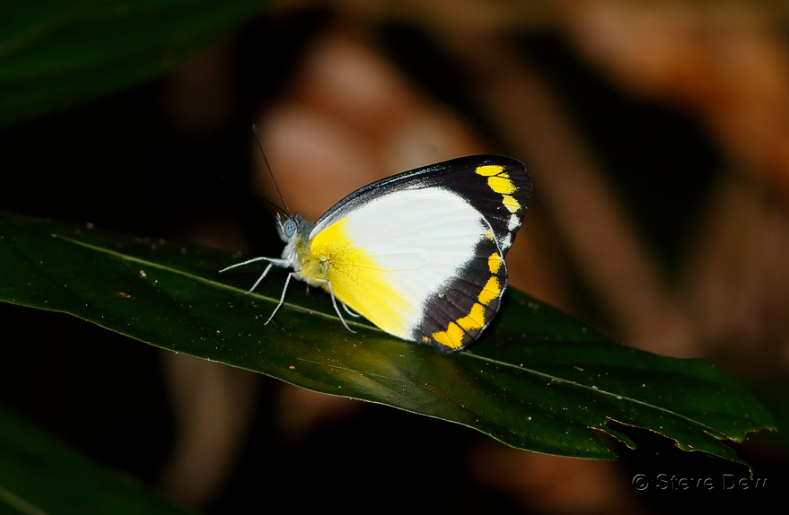 Delias ennia nigidius
Queensland, Australia
Picture by Steve Dew
Subspecies and range of Delias ennia :
. ennia Wallace 1867 - Waigeu Is. Sorong, Arfak Mts, Papua
. nigidius Miskin 1884 - Cooktown Paluma, Queensland, N Australia
. jobiana Oberthür 1894 - Yapen island, Papua
. iere Grose-Smith 1900 - Noenfoor Island, (Geelvink Bay), Papua
. xelianthe Grose-Smith 1900 - Central Highland, Papua New Guinea
. mysolensis Rothschild 1915 - Mysool island, Papua
. multicolor Joicey & Noakes 1915 - Biak island, Papua
. oetakwensis Rothschild 1915 - Central Mtns, Snow Mtns, Papua
. saturata Rothschild 1915 - Goodenough Island, PNG
. limbata Rothschild 1915 - Tagula Is., Yala Is. & Misima Is.
. tindalii Joicey & Talbot 1927 - Cape York Peninsular, Queensland, N Australia
synonym dorothea Tindale 1923

Notes on Delias ennia :
A very distinct species with mainly white coloration, except in subspecies D.e.iere & D.e.multicolor in which the hind wing is predominantly yellow and orange on the underside. D.e.multicolor has at times been considered to be a separate species, but detailed investigation has failed to find sufficient differences from the nominate form to support this.

The species has not, as yet, been found on the Bismarck Islands, where Delias lytaea probably represents it.

Several of the subspecies are very rare indeed.