Delias luctuosa Jordan 1911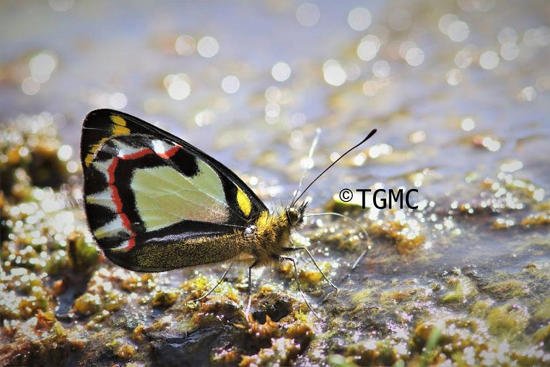 Delias luctuosa luctuosa male
Tari, PNG 2012
Picture by Tommy Chiu
Subspecies and range of Delias luctuosa :
. luctuosa Jordan 1911 - Southern Highland Prov, Mt Groome, PNG
. archboldi Roepke 1955 - Baliem Valley & Ilaga Valley, Irian Jaya
form butyracea Roepke 1955
form kuning van Mastrigt 1990
. mizukamii Okano 1989 - Chimbu Province, Papua New Guinea
. gottsi Gerrits & van Mastrigt 1992 - Snow Mountain, Papua
. magoda Gerrits & Yagishita 2000 - Weyland Mts, Papua
. versicolor Lachlan 2000 - NNW of Tabubil, West Sepik Prov, Papua New Guinea

Notes on Delias luctuosa :
This wonderful species is confined to the Mountains of Papua New Guinea and Papua.
It was originally placed by Talbot in his Monograph of the Pierine Genus Delias as a subspecies of D.iltis, to which it bears a superficial resemblance. However, it may be distinguished by the larger amount of black on the forewings, both upper and underside.

The female of D.l.mizukamii has a white coloured upperside. There is a yellow form, f.butyracea, a name which is also used for the yellow form of D.l.archboldi.
Original description (D. iltis luctuosa) : Jordan - Novitates Zoologicae xviii (1911) : "Male: A subspecie D. iltis iltis dicta alis anticis pro maxima parte nigris, posticis late nigro marginatis distinguenda.
The white area on the upperside of fore wing extends from the hind margin to M¹ and is much shaded with black in the cell. There is no white spot distally to the apex of the cell, excepting three subapical dots; the black border is 6mm. broad at the hind margin. The black margin of the hind wing moderately narrows behind, measuring 5mm. in breadth at R²; its inner margin is diffuse. It bears three white submarginal dots.
On the underside the white area of the fore wing reaches to the lower angle of the cell and the base of R³, there being also a faint trace of a white mark beyond the apex of the cell; the black border more strongly narrows posteriorly than above; the yellow subapical band is slightly broader than in D. iltis. The central area of the hind wing is more uniformly suffused with sulphur-yellow than in D. iltis, the red line is thinner and the white spots placed at its outer side are smaller and more triangular, and the black marginal spots consequently larger."
Female: Original description not available.