Delias sagessa Frühstorfer 1910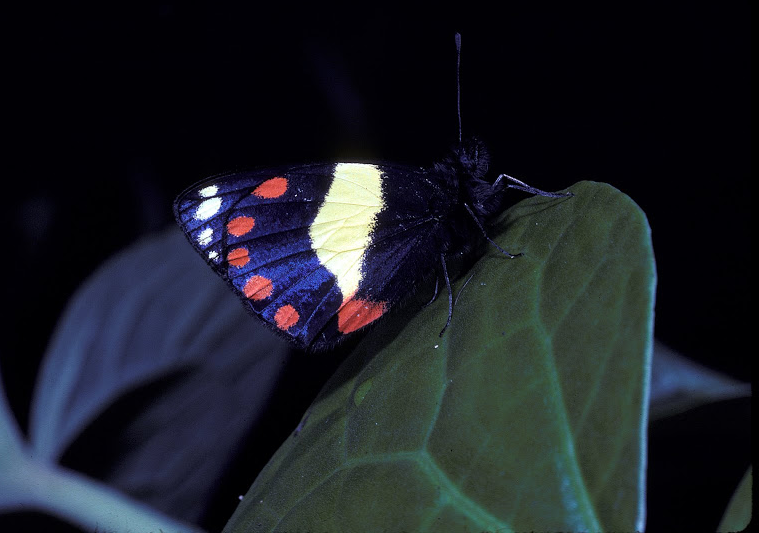 Papua New Guinea, 2003
Photo : Brian Thistleton
Subspecies and range of Delias sagessa :
. sagessa Frühstorfer 1910 - S. Papua New Guinea
(Homonym dives - Rothschild 1914)
. straatmani Schroder 1977 - C. Papua New Guinea
Notes on Delias sagessa :
A beautiful species. Similar and closely related to D. abrophora which has a much reduced black submarginal band.
The photograph of D.s.straatmani shown is one obtained by Robert Gotts from Ray Straatman, after whom it was named. It is unlikely that such rare subspecies as this will ever reach dealers, and as such, are very rarely in the public view.

D. anjae and D. sinak were both originally placed as subspecies of D. sagessa. They have both recently been given specific status. I am not 100% convinced that this is correct, but in the absence of any reason to doubt the experts, will follow current opinion.
Original description : Frühstorfer - Seitz' Macrolep. ix. p.183 (1910) - "Male: Wings white on upperside. Fore wing black from apex of cell distad, costal edge black down to base, white area rounded distally, extending close to apex of SM². Hind wing with very thin black distal border, not exceeding 1mm. in width.
Underside olive-black, somewhat purplish, especially on hind wing, slightly glossy olive-green. Fore wing: a broad pale yellow band before middle anteriorly, just proximally of cross-veins, gradually widening behind, not reaching costal edge; four submarginal dots also pale yellow, the second the larger. Hind wing: median band deeper yellow than on the fore wing, terminating behind at a large scarlet abdominal marginal spot; moreover, a submarginal row of five scarlet spots, rounded, nearly touching fringe.
Female: Similar to the male; the black apical area of the fore wing, above, is wider, and the hind wing has a broad black distal border, which slightly widens costally. There are often white submarginal dots on both wings, those of the hind wing being slightly pinkish. The white area is feebly yellowish. The sexes are alike on the underside."