Delias rileyi Joicey & Talbot 1922
Subspecies and range of Delias rileyi :
. rileyi Joicey & Talbot 1922 - Menoo Valley, Weyland Mtns, Papua
. yofona Schroder & Treadaway 1982 - Wissel Lake, Papua
. nishizawai van Mastrigt & Sibatani 1991 - Ilaga River, Papua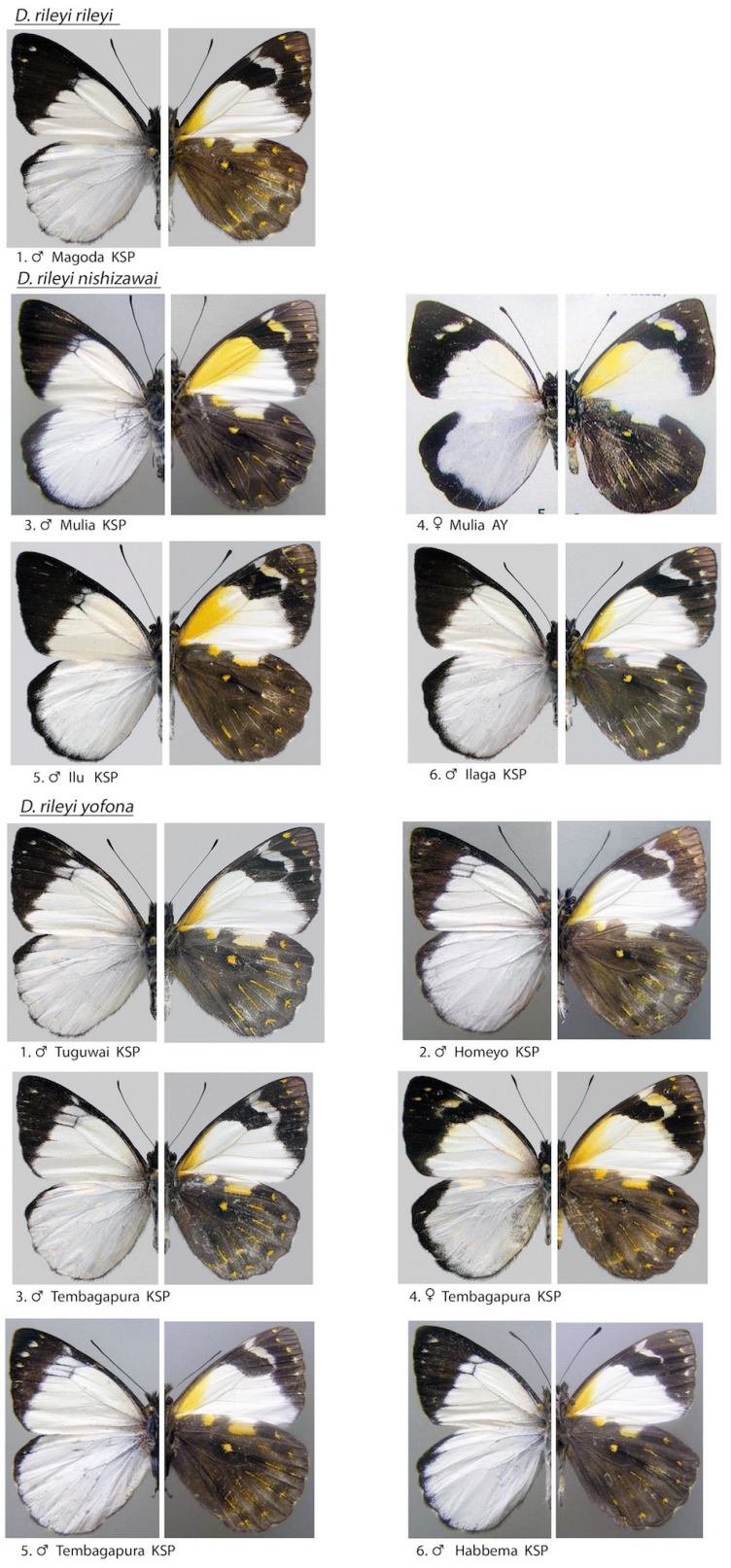 Notes on Delias rileyi :
Named after the well known British entomologist, N.D.Riley(1890-1979).

Male: (Original Description by Joicey & Talbot , Bulletin Hill Museum 1922, i. pt2)
"Upperside of fore wing with white proximal half which projects distad along vein 2, slightly indented on veins 2 and 3 and more so on vein 4. The cell is only slightly invaded at its lower and upper angle. Hind wing with narrow black margin, broader between costa and vein 5, then tapering off and becoming merged in the white area. Underside of fore wing with white proximal half. A basal costal streak of cadmium-yellow (iii), where in jordani there is black scaling. the white area does not reach end of cell and below vein 4 reaches farther distad than on the upperside. a subapical costal white stripe, curved outwards to vein 5, thence downwards to 4 and just below this vein connected by faint scaling to the edge of the white area. A submarginal series of seven dots, the anterior and subapical four yellow, the lower ones white. Hind wing with brown colour more blackish than in jordani, markings deeper or cadmium-yellow. Costa white, yellow at extreme base. A rounded yellow spot slightly white on its distal edge in cellule 7 and touching vein 8; a little beyond this an oblong white spot posteriorly edged with yellow, reaching from costa nearly to vein 6; a small rounded spot in the cell below vein 6; a postdiscal series of intranervular streaks in 1c,2,3,4 and 5, with some faint yellow scaling on either side of them and a faint distal edging of white, outlining a band which would occupy the same position as the band found in jordani. A submarginal series of six yellow spots."
Female: Description not yet available.