Delias eichhorni Rothschild & Jordan 1904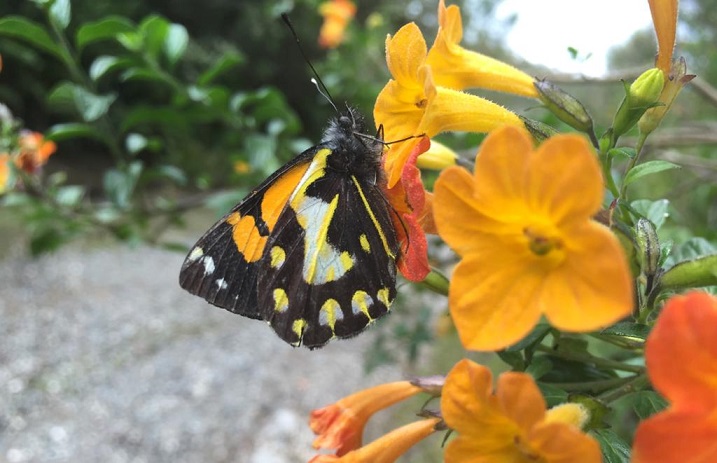 Delias eichhorni hagenensis (very rare female)
Mount Hagen, 2018
Picture by Nicolas Grimaldi
Subspecies and range of Delias eichhorni :
. eichhorni Rothschild & Jordan 1904 - Aroa River, Owen Stanley Range, Papua New Guinea
. kerowagi Morinaka, van Mastrigt & Sibatani 1993 - Kerowagi, Papua New Guinea
. hagenensis Morinaka, van Mastrigt & Sibatani 1993 - Southern Highland Prov, Pap Creek, Mount Hagen, PNG
. mullerensis Morinaka & Nakazawa 1999 - Muller Range, Central Highlands, Papua New Guinea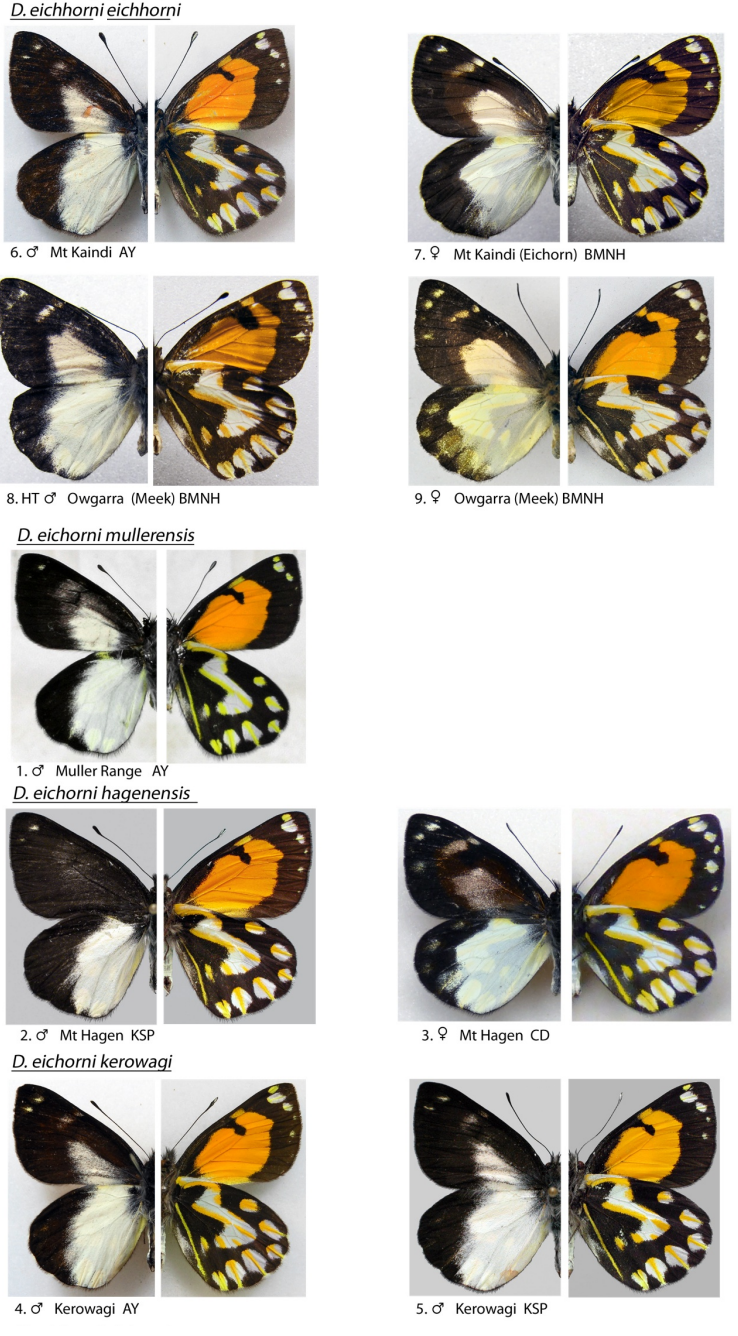 Notes on Delias eichhorni :
Males are common in collection but females are extremely rare !
Original Description - Rothschild (1904. Novitates Zoologicae xi.)- "Male: Upperside fore wing black, a large triangular area from hinder margin forwards to R3, penetrating into the cell, truncate-sinuate costally, not extending to base; three white spots beyond apex of cell from costal margin to R3, more or less confluent, the first the smallest; two white subapical spots. Hindwing for the greater part white; a somewhat irregular distal margin band black, tapering behind. Underside fore wing black, a large deep cadmium-yellow area as shown in figures (see above), deeply excised at the cross-veins; a row of five white submarginal spots, slightly tinged with citron-yellow, second the largest, fourth the smallest. Hind wing olive black; a white band somewhat shaped like a figure 3 obliquely from base of costal margin to disc, streaked or spotted with yellow between the veins, a submarginal row of large white spots, mostly nailhead-shaped, being produced to the distal edge, except the first; these also marked with yellow mesially; a yellow spot between end of band and SM2; this vein citron-yellow; abdominal margin more or less white in middle.
Female: Differs from male on the upperside in the fore wing being more extended black and having the spots sulphur-yellow, in the hind wing being shaded with sulphur-yellow, and having a broader black border, which includes vestigial sulphurous spots; and on the underside in the fore wing bearing a series of seven submarginal spots".