Delias pheres Jordan 1911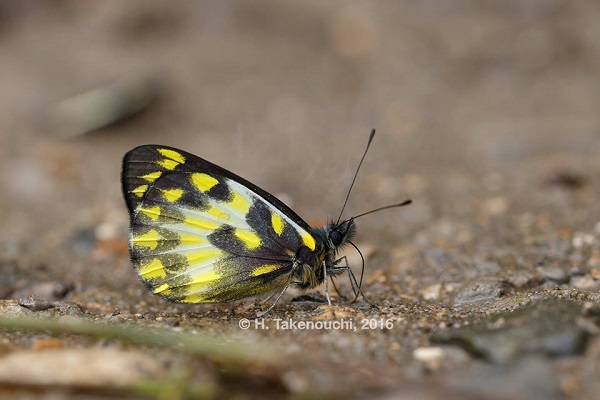 Delias pheres approximata male
Pass Valley, July 2016
Picture by Hiro Takenouchi
Subspecies and range of Delias pheres :
. pheres Jordan 1911 - Snow Mountains, Papua | Western Prov. PNG
. approximata Joicey & Talbot 1922 - Central Mountains, Papua
form rectimargo Joicey & Talbot 1922
(Synonym daniensis van Mastrigt 2003 : daniensis is in reality an aberration of Delias pheres)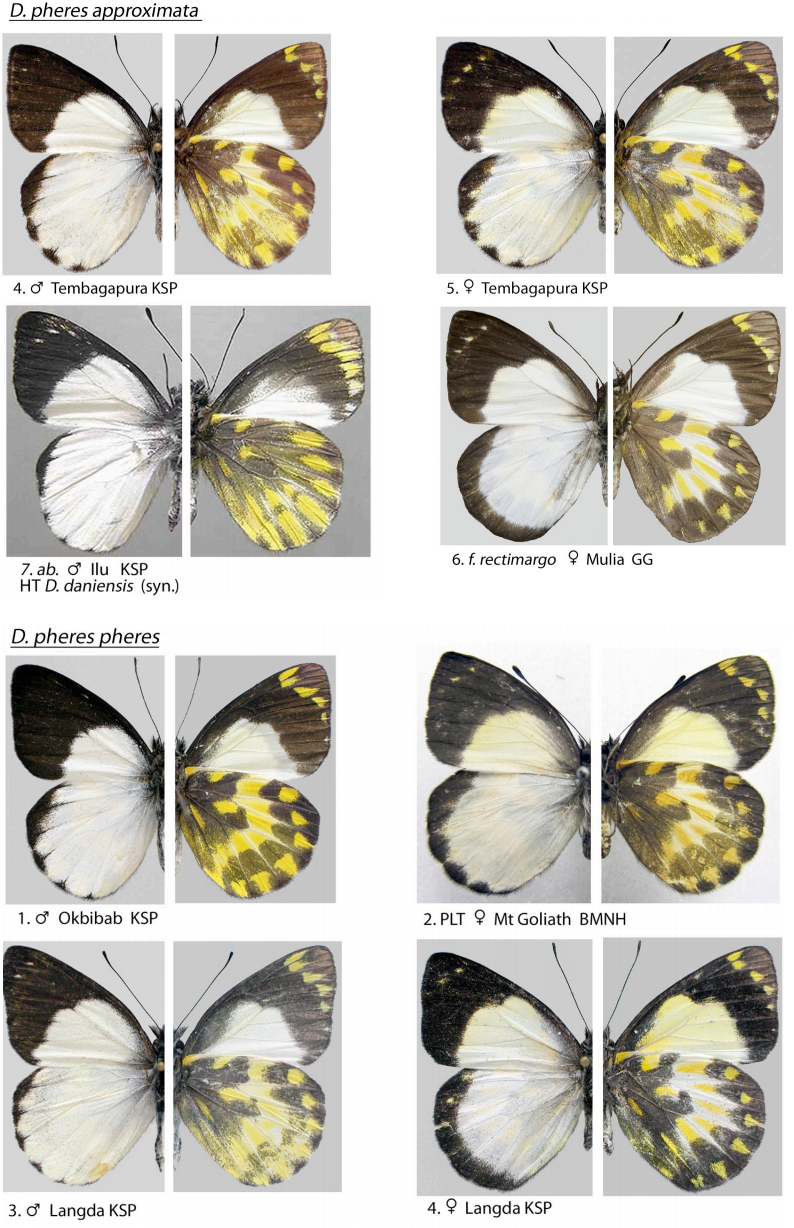 Notes on Delias pheres :
Funahashi has reviewed this species in 2012 in Funahashi K., 2012. A taxonomic review of Delias aroae species complex s. str. belonging to New Guinea, Lepidoptera Science 63 (1): 1 - 17
In this article, Funahashi shows that Delias approximata is only a subspecies of Delias pheres.
Male: Upperside purer white than in cuningputi, black area of fore wing enters the end of the cell. Hind wing with narrow black marginal border which below vein 4 is formed of spots of decreasing size on the veins. underside with brownish-black ground-colour. Fore wing with white proximal area extending into the lower outer part of cell and base of cellule 3. Four small yellow subapical spots and two smaller ones near the margin in 2 and 3. Hind wing pattern as in cuningputi, but the band marked with wider yellow bars and its outer edge more scalloped. the cell-spot is larger and so are the submarginal spots. There is strong yellow dusting below the cell and on the inner margin.
Female: Upperside as in the male but creamy-white. Fore wing with 3 or 4 yellowish subapical dots. Hind wing with heavier dark border which posteriorly is not quite broken up. Underside as in the male, the band of the hind wing wider.
Female f. rectimargo: Differs from the typical female in the uniformly broad and sharply defined black margin of the hind wing extending from the costa to the inner angle. On the hind wing below the submarginal spot below vein 2 is vestigial.