Delias sawyeri van Mastrigt 2000
Subspecies and range of Delias sawyeri :
No subspecies
. sawyeri - Poketamanda, Enga Province, PNG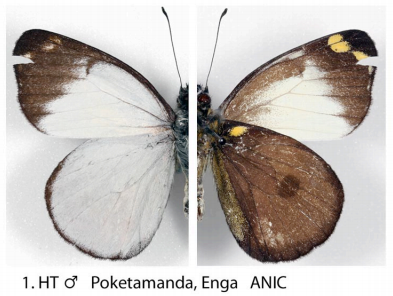 Notes on Delias sawyeri :
A very recently described species, related to D. catocausta.

It differs from that species on the underside by having a large brown discal area, bordered by a black terminal border, and without a white band at the inner edge of the black border.

I am extremely grateful to Phil Sawyer, after whom the species was named, for providing me with the above photos of the species. As far as I am aware, this is the only known specimen.