Delias nais Jordan 1911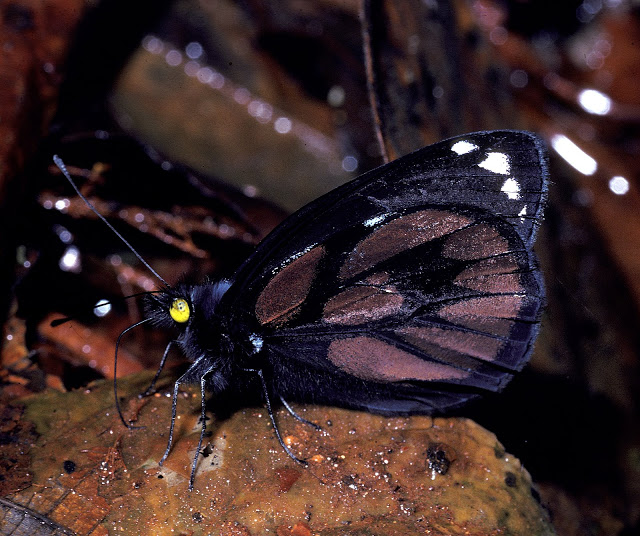 Delias nais
Papua New Guinea, 2003
Photo : Brian Thistleton
Subspecies and range of Delias nais
. nais Jordan 1911 - Mt Goliath, Central Mtns, Irian Jaya: Western & Southern Highland Provs, PNG
. aegle Joicey & Talbot 1922 - Biagi, Owen Stanley Range, Papua New Guinea
. keysseri Rothschild 1925 - Rawlinson Mtns, Papua New Guinea
. odilae Gotts & Ginn 2004 - Prince Alexander Mtns, Papua New Guinea
. beehleri van Mastrigt 2011- Foja Mounts, West Papua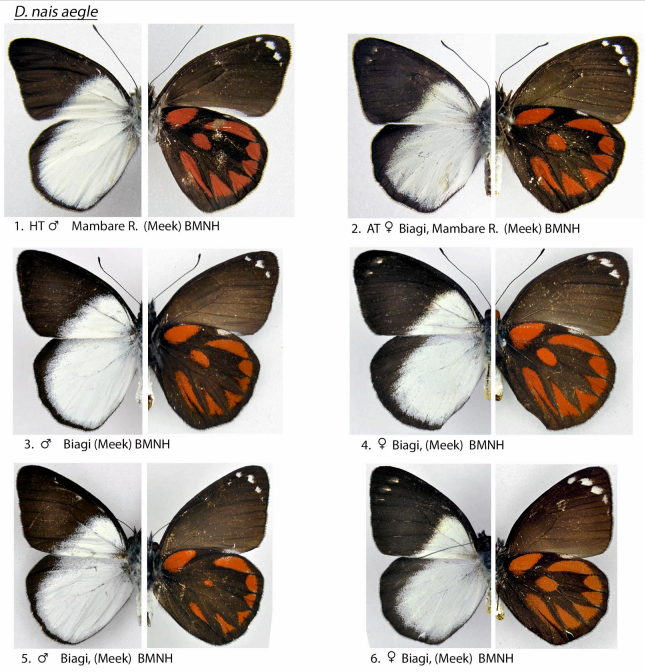 Notes on Delias nais and Delias zebra :
Delias nais and Delias zebra have been wrongly separated for many years. Henk van Mastrigt and Chris Davenport have writen an interesting article in SUGAPA Volume 6 (2), December 2011, in which they explain that zebra is a form of nais. They have also rationalised the number of subpecies.
Delias nais :
Male: Fore wing above with white area reaching at least the lower angle of cell and sometimes extended to beyond end of cell; it extends also to near the tornus. Hind wing with narrow black marginal border.
Underside of fore wing as in D. bornemanni, with three subapical white spots. Hind wing with chocolate-brown basal stripe only slightly extended into the cell, its outer edge reaching only the upper edge of cell. Chocolate-brown patches similar to bornemanni but considerable enlarged.
Female: Black distal area of fore wing more extended black, border of hind wing wider. White areas slightly yellow-tinged.
Underside as in the male.

Delias nais form zebra :
This form can easily be distinguished by the white vein markings on the underside hind wing, and also by the brighter brown marking on that wing than with the other members of the group. In Henk van Mastrigt collection, you can see all intermediary forms between classic zebra with a lot of white to Delias nais with very small white amount.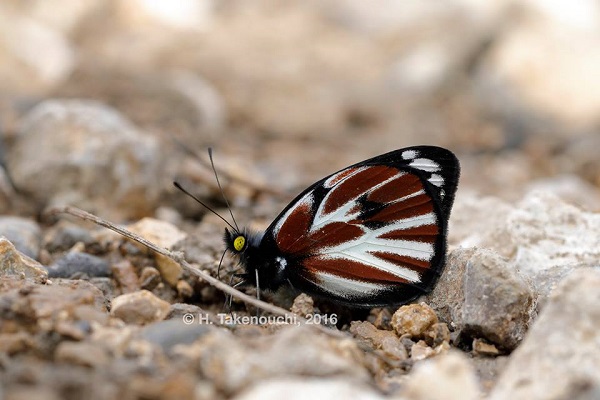 Delias nais nais form zebra male
Pass Valley, Papua
4 July 2016
Picture by Hiro Takenouchi
Group bornemanni species :