Delias maaikeae Davenport, Pequin & de Vries 2017
Subspecies and range of Delias maaikeae :
No subspecies
.maaikeae - Cyclop Mounts, Papua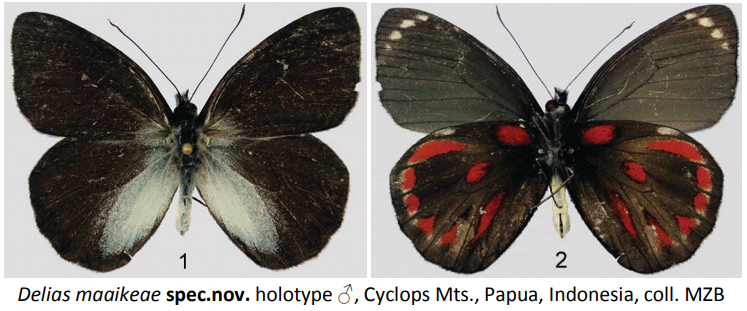 Notes on Delias maaikeae :
The most recent description of a new Delias species. Extremely rare in collection, known by less than 3 specimens.
It is known from the isolated Cyclop Mounts which is now a National Park. The Cyclops Mountains on the northeast coast of Papua Province, Indonesia are known to be a center of biodiversity and endemism although exploration has been limited due to the steep topography and absence of water sources at higher altitudes.
Delias maaikeae has similarities on the underside to D. bornemanni, known only from the Owen Stanley Range in eastern Papua New Guinea, approximately 900 km southeast of the Cyclops Mountains, and on the upperside to Delias pratti Kenrick, 1909, which is endemic to the Arfak Mountains, 800 km to the west.
Full description of Delias maaikeae is available in Sugapa periodical.
Group bornemanni species :