Delias diaphana Semper 1878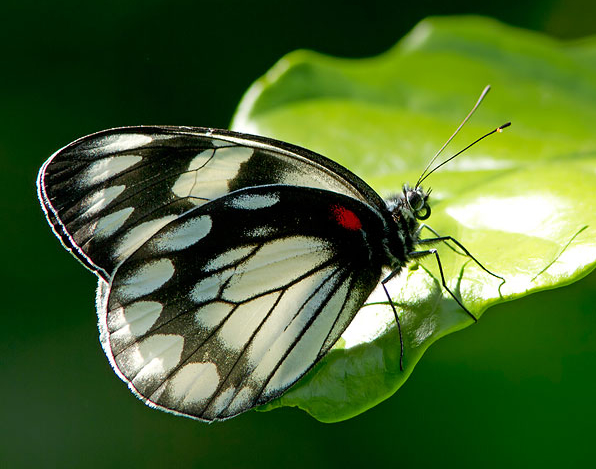 Delias diaphana diaphana, male
Daiwangan, North-West of Malaybalay City, Northern Mindanao (Philippines)
Photo : Leif Gabrielsen
Subspecies and range of Delias diaphana :
. diaphana Semper 1878 - Mt. Apo, Mindanao
. sakagutii Tsukada & Nishiyama 1980 - Masara Maine, SE. Mindanao
synonym morishitai Nakano 1993
. basilisae Schroder 1893 - Mt.Malindang~Zamboanga, W. Mindanao
. yatai Nakano 1993 - Tandag, NE. Mindanao
. treadawayi Badon & Jakusch 2016 - Panay island, Philippines

Notes on Delias diaphana :
A totally unmistakable species.
There are plenty of different spellings in litterature for sakagutii ssp. After verification, the right spelling is "sakagutii", other spellings are errors.
In 2016, Badon & Jakusch have described a new ssp (treadawayi) from Panay island in the Philippines. Until then, we thought that diaphana was confined to Mindanao. It may exists on some other islands too.
Ssp treadawayi is very close to ssp sakagutii though. The authors wrote in the description : "The males do not have yellow dusting and markings on both sides of the wings, while the females possess these yellow color characters. The males look similar to D. d. sakaguchii and the black dusting on the underside is variable. The females also look similar to D. d. sakaguchii, but the new subspecies has fewer white markings/dustings on the underside of the hindwings. The white-yellow band on cell space three of underside forewing is variable; other individuals have broken bands, while most are united. The females have a clear white dot in the cell of the hindwings. This is completely absent in D. d. morishitai and slightly visible in D. d. sakaguchii. The white dot of the hindwing in the female is extremely rounded and very compact, and this characteristic is not well pronounced in D. d. sakaguchii. This hindwing white end cell spot is variable in the subspecies D. d. sakaguchii and D. d. diaphana." Entomologische Zeitschrift · Schwanfeld · 126 (1) 2016